Dashboard interface description
The indicators on dashboard pages are displayed in tiles arranged on a grid of rows and columns.
Each tile contains a visual representation of one or more performance or availability indicators.
The color of an indicator reflects its state: neutral, positive or negative.
The default size of a tile is one space on the grid. Tiles can be sized to occupy multiple spaces and moved anywhere on the grid.
A dashboard can have any number of rows. Only 4 rows are displayed at a time. You have to scroll to view additional rows.
Dashboards are limited to 6 columns.
Dashboards resize to accommodate browser geometry but are designed for use on computer monitors, not mobile devices.
Dashboard controls
The dashboard header area includes the dashboard controls.
| Control | Action |
| --- | --- |
| Panel toggle | Display the dashboards panel; see next section. |
| Share | Make the dashboard public (if you are the owner) or copy its URL to your clipboard. |
| Copy | Make a copy of the dashboard. |
| Full screen | Expand the grid of tiles, which hides the header and footer. |
| Refresh | Update the page immediately or set the refresh interval. |
| Edit | Switch to dashboard edit mode. This control is dimmed when you do not have permission to edit the dashboard; see Edit a dashboard. |
| Export | Download the dashboard; see Export dashboard data. |
| Scope | Display a description of the scope and a control for opening the scope editor. The control is dimmed when you do not have permission to edit the dashboard. The scope editor is described in the procedure for creating a new dashboard. |
| Time range button | Display the time range controls. |
Dashboards panel
To display the dashboards panel, click the panel toggle.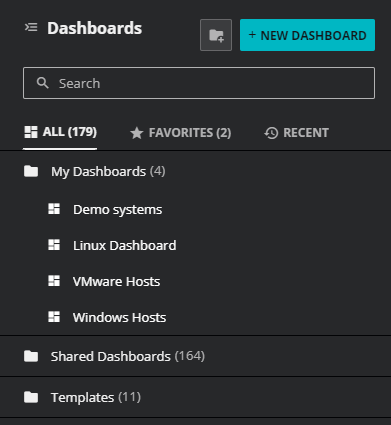 The panel includes links to the following types of dashboards:
Your dashboards
The public dashboards of other users
Dashboard templates (visible to authorized users only)
You can display any public dashboard, but you can only edit dashboards you own.