Events console
Note
The events console feature is in Beta release and might not be available in your Zenoss Cloud environment. For more information, please contact your Zenoss representative.
An events console displays events associated with all entities in the current time range and tools for managing the events. The display includes visualizations and an interactive table. The time range of an events console is independent of the time ranges of dashboards or Smart View pages, and you can open multiple events consoles, each with its own time range.
The following example shows an events console with visualizations displayed. You can hide the visualizations to focus on the table, if you wish.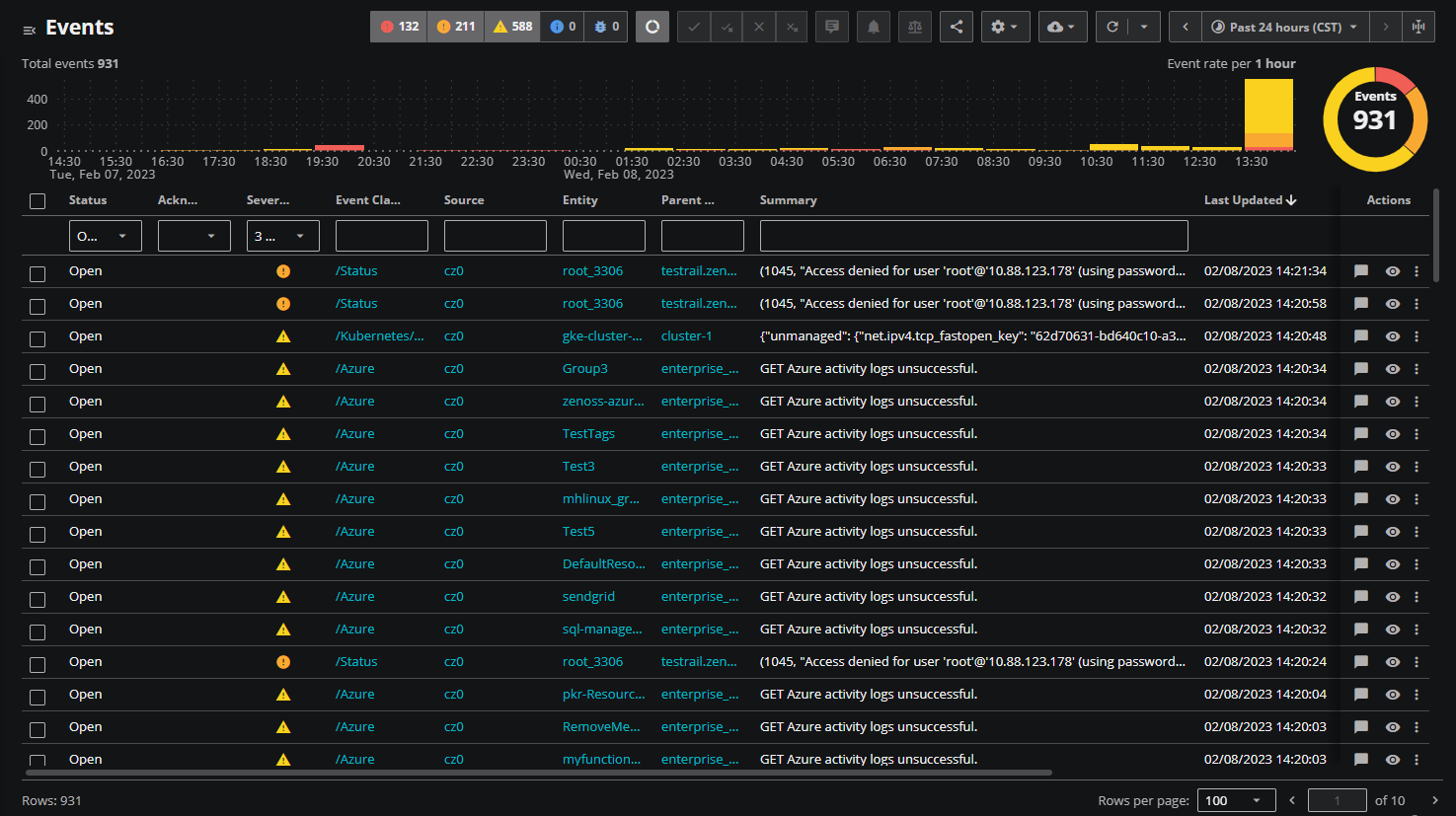 Users with the ReadOnlyUser role or a more privileged Zenoss Cloud role may view an events console. The tools for managing events are available if the group associated with your user account is allowed to manage the entity associated with an event; otherwise, the tools are dimmed.
Note
A Zenoss Cloud events console displays all events. However, events associated with Collection Zone entities are managed with the Collection Zone events console, while events associated with streaming data entities are managed with Zenoss Cloud events consoles.
Event visualizations
Events console visualizations include a timeline, a column chart, a doughnut chart, and a severity rainbow, which shows the total counts of each event severity in the visualizations and the table.
The events timeline represents each event that occurred during the current time range with a thin vertical line. The column chart shows events of the status you select (the default is Open). To create a column chart, Zenoss Cloud divides the current time range into 24 equal periods and then represents the total number of events during each period with separate columns (or no column).
Interactive table
The table presents events in rows and columns, and the columns can be reordered, resized, or removed. For a closer look at individual events, each event row includes a link to an event details panel, which displays all available event details, as well as graphs of related metrics and information about related events.
Also, like entity names in dashboard tiles, entity names in an events console are Smart View links, and when you open an entity's Smart View page, the Smart View time range matches the events console time range.
Management tools
The console includes tools to acknowledge and unacknowledge events, close and reopen events, annotate events, set the refresh interval, and export table data in a variety of formats.