Zenoss Slack app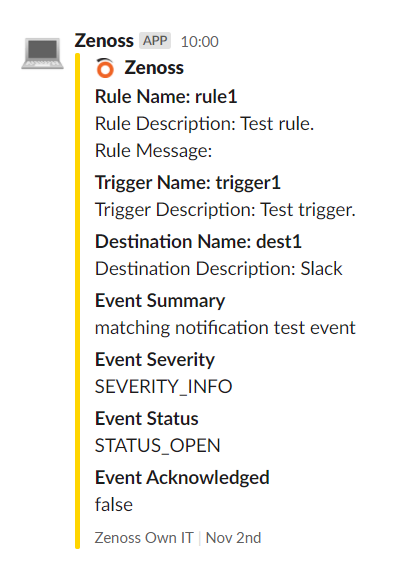 Receive timely updates about important changes in your IT environment with the Zenoss Slack app.
You configure the Zenoss Cloud action service to respond to changes by sending information about current conditions to a public channel.
Anyone can install the app, but only Zenoss Cloud customers can configure Zenoss Cloud to send information about changes.
Installation and use
You install the Zenoss Slack app automatically when you configure a destination. There's no special installation process.
To send information to a channel, configure the action service.
Create a trigger to identify specific conditions in your environment.
Create a Slack destination to specify the channel to receive notifications.
Create a rule to combine your trigger and destination with a customized notification.
The action service monitors data about your environment and initiates the actions defined in a rule when conditions match a trigger's criteria.
Slack authorizations
The Zenoss app relies on the following Slack authorizations:
Join public channels in a workspace.
View basic information about public channels in a workspace.
Send messages as @zenoss.
Send messages as @zenoss with a customized username and avatar.
Security and privacy
When you configure a destination to send messages to a channel, you must include a bot token. Zenoss Cloud always includes the token in the messages it sends to a channel.
The Zenoss app is governed by the Zenoss Privacy Policy.