Notes tile

The Notes tile displays plain text or HTML5-encoded content in any combination. You can include up to 3000 characters in a tile.

Many HTML5 features are supported, although elements and attributes that are vulnerable to cross-site scripting attacks are not supported. Specifically, the following elements are not supported:
The document root (html) and content root (body) elements
All document metadata elements (base, head, link, meta, style, title)
All table elements (caption, col, colgroup, table, tbody, td, tfoot, th, thead, tr)
Two of the inline elements for Ruby code (rb, rtc)
Most embedded content elements (embed, iframe, object, param)
Most scripting elements (script, noscript)
The interactive dialog element
HTML5 is parsed during input and the save function is disabled if parsing fails. However, the tile includes a control that corrects invalid and unsafe HTML5 for you!
Zenoss Cloud renders a preview of the content in the input field even if the content includes invalid or unsafe HTML5. If the content does not fit in the tile, Zenoss Cloud adds a scroll bar to the right side of the tile.
Example tile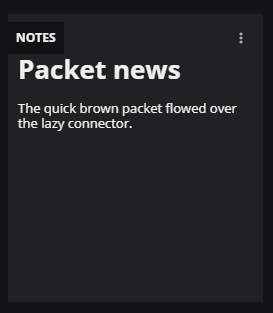 Tile configuration options
Tile title

The text that appears in the upper-left corner of a tile.

Notes